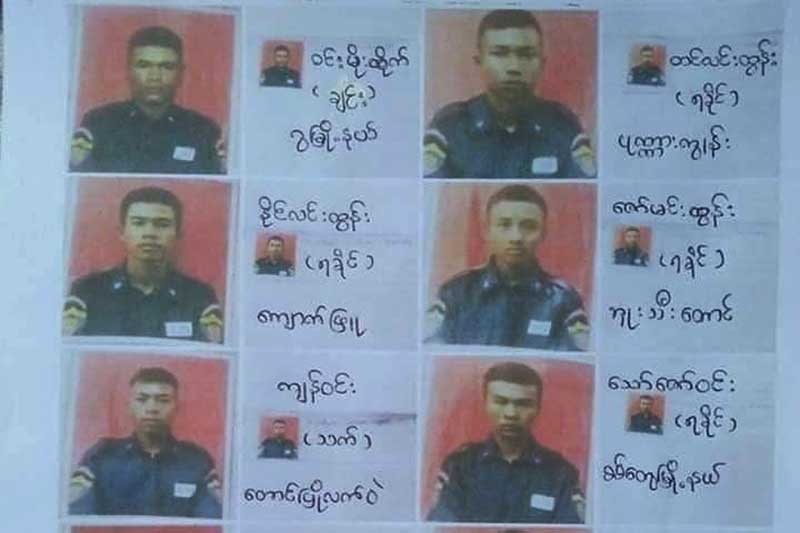 Khaing Roe La | DMG
November 7, Sittwe

One out of 19 firefighters, who were detained by the Arakan Army (AA) last month died of a heart attack, and the remaining 18 firemen were released on November 6, the AA's spokesperson Khaing Thukha said.

Khaing Thukha confirmed that the deceased is U Myint Zaw, deputy head of township fire services department, and he got a heart attack and died suddenly after drinking water while AA soldiers took them along a mountain road.

"He died on the day we abducted them [firemen] from the Shwe Pyi Thit bus. While they had a rest after walking a while, he had the heart attack and died on the spot. Our medical group and other people tried to save him but their efforts were in vain," Khaing Thukha said.

On October 11, the AA soldiers seized 19 firefighters and 12 civilians near Htama Yeit village in Mrauk-U from Shwe Pyi Thit passenger bus coming from Pyin Oo Lwin located in Mandalay division.  

The AA stated that it released 12 civilians on October 28, and the remaining 18 firemen were sent to the village administrators near Lekkar village in Mrauk-U Township on November 6. 

The AA's spokesperson said that the deceased firefighter was a decent person, and the AA also felt sorry for his family and for their loss. 

"We feel quite sad. As much as we knew him from his colleagues, he was flexible with everyone and was a good-natured person. We feel sorry for his family," Khaing Thukha said.

U San Shwe Tun, Deputy Director of Arakan State Fire Services Department, said that they cannot give any confirmation yet concerning the release of firefighters because the released firemen haven't still returned to their department.

He added that he still cannot give any comment on the fireman's death as well.