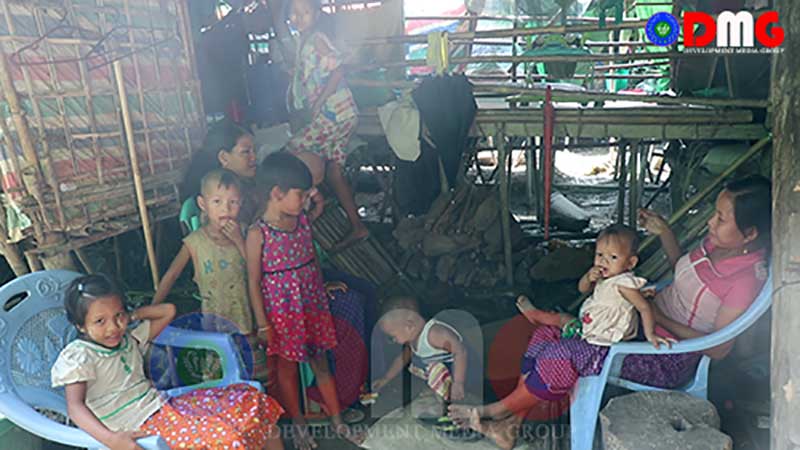 Win Nyunt | DMG
November 10, Kyauktaw
The IDPs in Wah Taung camp, Kyauktaw Township are facing difficulties to continue staying in the camp because the camp is built on farmland and the landowners have asked camp residents to start paying rent.
"We arrived at this camp on December 30 last year, and it was okay for us to stay on this land until February. They [farmers] started to prepare growing paddy in April and May and we were told to move off this land. But we haven't been able to move from this camp at the moment and don't have any other place to go either," said Ko Tun Hla Kyaw, the spokesperson of the camp.
He added that the camp covers five acres land and the owners have asked for K500, 000 per acre for a year, so K2, 5000,000 for 5 acres for a year will be needed to pay the landowners.
"We have saved about K1, 100,000 at the moment for rent but we don't know how we'll get the rest of the money," Ko Tun Hla Kyaw said.
Since fighting broke out between the Tatmadaw and the Arakan Army (AA) in Arakan State in December last year, more than 2,000 people from many villages in Kyauktaw township, including Kha Maung, Pain Chaung, Gin Pi, Tel Wa, Lay Kway, left their homes and have been staying in Wah Taung camp.
Camp administrators said that they are reliant on aid from the World Food Programme (WFP), which provides them with rice, cooking oil, salt, beans and snacks once a month.
Although the camp has health care services, some people who require treatment at hospitals in other towns have had to sell food to go to the hospital.
Ko Tun Hla Kyaw said that there are around 360 students from primary to university level in the camp, and they have to hire teachers for them with their own funds.
"We have a primary school at the camp. But some kids have to go to another location for middle school so we have to spend the boat fees. We also have hired two teachers to teach some middle school students at the camp. We have to pay K1, 200,000 per year for a teacher," he said.
He added that IDPs in the camp are struggling for food and education and have no income with which they could pay rent for the land.
"They shouldn't ask for rental fees from refugees. We are already facing food, health and education problems because we don't have any income. Now, when we are asked to pay for land rental fees, it adds more problems," Ko Tun Hla Kyaw said.
As the speaker and members of State Hluttaw visited Wah Taung camp on October 4, the IDPs living in the camp expressed their difficulties.
Then, IDPs said that they also submitted a letter to Kyauktaw township administrator, and the response was to move and stay at the camps set up by the government.
"The camps set up by the government are farther away. So if we live there, we will face more difficulties," the camp residents said.
The State government told DMG recently that although they finished building the camps, it was not ready for them to put the refuges there because they were working to provide food and security.
The State government is building seven camps in Ponnagyun, Rathedaung, Mrauk-U, Minbya, Buthidaung and Kyauktaw townships.