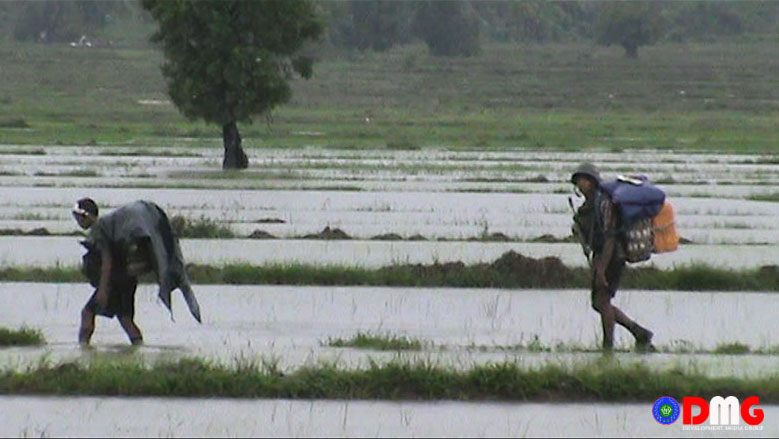 Khaing Roe La | DMG
15 November, Kyauktaw

The Tatmadaw and policemen conducted interrogations of residents from villages in Thayet Tapin Village-tract, Kyauktaw Township in Arakan State on 14 and 15 November, according to the villagers.

The move comes after a Tatmadaw battalion was attacked with remote-detonated mines near Thayet Tapin Village beside the Yangon-Sittwe Road on 13 November noon, said a villager who declined to be named.

"The police and Tatmadaw entered the village and arrested residents since 14 November. Four residents were taken by the Tatmadaw yesterday," the villager told the DMG.

The abductees are identified as Nay Myo Tun (alias) Aung Paing and Maung Kalar from Thayet Tapin Village, Nyi Nyi Soe from Ywama Pyin Village, and Maung Kyi Lin from Sabar Seik Village.

Asked about the reports of a mine attack, the Tatmadaw's Western Command spokesperson Col Win Zaw Oo said the Tatmadaw conducted interrogations of local residents in Thayet Tapin Village based on a tip about the Arakan Army (AA).

"We didn't take any villager for questioning. Maybe the Tatmadaw went to Thayet Tapin Village to check some residents on suspicion of having ties to the Arakan Army (AA)," the Tatmadaw's spokesperson told the DMG.

A battalion commander and four other soldiers from No.374 Light Infantry Regiment under the Tatmadaw's No. 9 Military Operations Command Headquarters were killed in a clash with the Arakan Army (AA) at a bridge near Thayet Tapin Village on 13 November, according to a press statement released by the ethnic armed group.

The fallen commander of the Tatmadaw's Kyauktaw-based battalion was identified as Lt-Col Yan Naung Win who graduated from Intake No.44 of the Defense Services Academy, according to the Facebook pages of his relatives.

The Tatmadaw's Western Command spokesperson Col Win Zaw Oo denied the reports, saying no mine attack occurred near Thayet Tapin Village.

"There was only a mine explosion near Lekka Village in Mrauk-U Township. A military column performing a clearance operation at an entrance to Lekka Village was attacked with remote-controlled mines near a small bridge and some soldiers were injured," he added.

The Tatmadaw and police force have been checking local people in Thayet Tapin Village against household registration certificates, residents said.