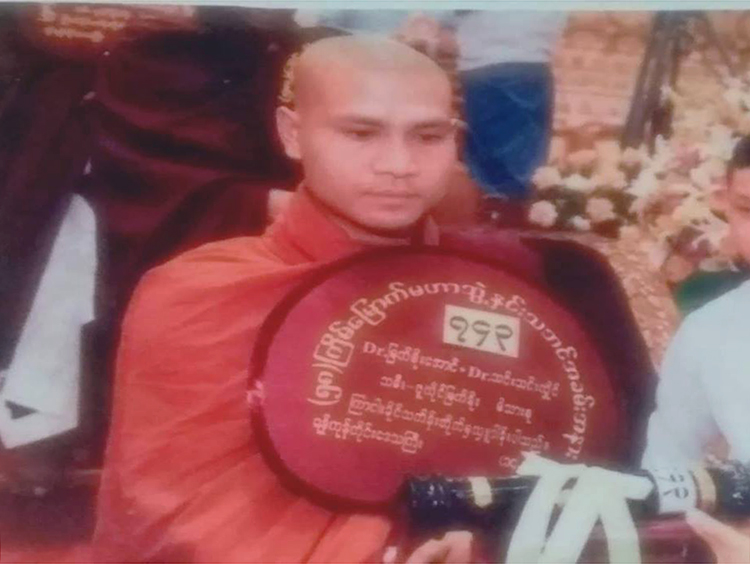 Nay Yaung Min/DMG
April 3, Sittwe

The Tatmadaw detained two monks from Ponnagyun and Mrauk-U townships and three people from Ponnagyun Township on April 1 for questioning regarding associations with the AA, Office of the Commander-in-Chief said on April 3. 

They are U Thuwana from Thirimyitzu monastery in Ponnagyun Township, U Nyarna from Gandamadaung monastery in Mrauk-U Town, Mya Tun from Pauktaw (Pauktaw Pyin) village in Ponnagyun Township and Thein Han and Kyaw San from Ponnagyun Town.

While the Tatmadaw security column was searching vehicles near Kansauk village on Monday, A car heading to Kyauktaw from Sittwe was stopped at about 9 p.m, according to the statement.

After questioning, the Tatmadaw found that Kyaw San would join the AA, and Thein Han from the AA was instructed to send Mya Tun, who ran away from the AA, to a place near Kun Ohn Chaung village in Kyauktaw Township, the statement said.

Since Thein Han said that he drove Mya Tun using U Thuwana's vehicle near Ponnagyun Town, the Tatmadaw checked the mobile phone of U Thuwana and found that the monks were in contact with Tun Lin Naing from the AA, it said. 

The two monks disrobed in front of Sayardaw Badhanta Dhammika from the Taung Shwe Ywar monastery, the head of Sittwe Township Sangha Nayaka Committee, the Tatmadaw said in the statement.

U Kyaw Win, a devotee of U Thuwana, said that the monk was missing on the way from Ponnagyun to Mrauk-U while he was sending U Nyarna, who was back from Sittwe after his exams, on Monday evening.