Analysing Arakan State's Geopolitical Situation Part (2)
There are four reasons, or "traps," why a country suffers from poverty, according to a book written by Paul Collier that was translated by writer Juu under the name "A Billion Bottoms."  
By Zaw Htun (Mrauk - U) 12 Dec 2021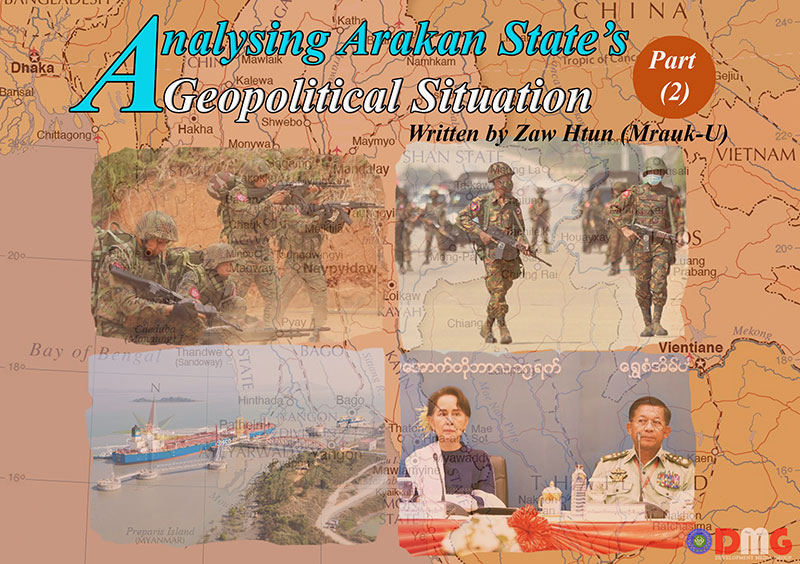 Written by Zaw Tun (Mrauk-U) 
There are four reasons, or "traps," why a country suffers from poverty, according to a book written by Paul Collier that was translated by writer Juu under the name "A Billion Bottoms."  
No one can say for sure whether the Arakan Revolution will end in an independent state or a confederation state. According to the Arakan Army (AA) chief, it is clear that the Arakan Revolution is a declaration of at least a confederate state. However, as Collier points out, the four causes of poverty in a country are important. Let's compare them. 
(1) Conflict Trap 
It can be easily understood that it is a winner-take-all system that captures Myanmar's political culture. It is also said that power is the truth. According to this culture, we can only hope for the independence of Arakan State if we can eradicate the Myanmar military in Arakan State. The Arakan Army chief claims that the ethnic armed group now has 75% control of Arakan State.
Although 75% Arakan Army territorial integrity can be measured to some extent, it cannot be said that 75% of Arakan State can be measured by the ability to build the state's major pillars of governance, the judiciary, the legislature, and so on. 
Although the United League of Arakan and Arakan Army (ULA/AA) are capable of carrying out state-building functions and nation-building functions, it is highly unlikely that the Myanmar military and government will be able to understand the current situation. The inability of the Myanmar military to conduct military operations in Arakan State is due to the military, political, economic and social challenges that have arisen in the aftermath of the coup. Therefore, Arakan State is considered to be at risk of civil war. 
In addition, although Arakan State is a small and sparsely populated area, it is not small in terms of ethnic diversity, and religious and cultural diversity. The greater the ethnic and religious diversity, the greater the social and political conflict, and the need for national-building functions are to be implemented through strategic and short-term plans. Otherwise, even such diversity may not be a beauty but a cause of national instability. Without national unity and the development of stability and peace, not only a confederation but also a state will not be able to be considered a precious freedom. Therefore, fire should be eliminated from the smallest possible causes of civil war, just as fire can be prevented. 
(2) Natural Resource Trap 
Myanmar is one of many countries in the world today that are rich in natural resources and extremely poor. There are eight major ethnic groups in Myanmar, with the Burmese occupying seven divisions, and the other ethnic people seven divisions as states. Kachin, Kayah, Kayin, Chin, Mon, Arakan, Shan and other states are located on the outskirts of Myanmar, where most of the natural resources are concentrated. 
Therefore, it is not fair to share in the benefits of natural resources, as the Burmese get only seven out of seven other ethnic groups. In addition, a military-led group of people who uphold Burmese nationalism have used the monopoly power for decades for the development of a group of people on the pretext of nationalism. Decades of economic centralisation, centralised administration of education resources, and centralised administration and management, have poisoned the country with inequalities for decades. The years of non-formal education have been systematically shaped, with one nation, one religion, one culture and one culture being built over the years. 
It would be unwise to try to make a single flower stand out in Myanmar, where all kinds of flowers are in full bloom. The unjust takeover of the country has not only resulted in the loss of many lives and the livelihoods of many good citizens, but also the brain-drain of many intellectuals who have suffered for generations. Due to the dishonesty and incompetence of successive rulers, the unity of the country has been shattered and the cycle of civil war continues.  
Environmental impact assessments (EIAs) and social impact assessments (SIAs) must be carried out systematically before the production and sale of natural resources, and must be fully accountable. The Extractive Industries Transparency Initiative (EITI) must also be guaranteed. Otherwise, it will inevitably lead to suspicion and mistrust and plunge the region into conflict.  
(3) Landlocked With Bad Neighbours Trap 
Whether Arakan State becomes a confederation or an independent nation, the many interests of Myanmar, Bangladesh, India and China will not change. However, it can be said that Arakan State has many advantages as it is a coastal area. As Bangladesh is China's political partner, it could be a good friend for Arakan State, where many of China's interests exist. The Sino-Myanmar-Indian-Bangladesh Economic Corridor is planned to be led by China and will pass through some of the Arakan Army's control areas, so the role of the Arakan Army could play an important role in becoming a friend. Because in politics, there is no eternal enemy, no eternal friend, and interest is paramount. 
Under China's Belt and Road Initiative, the stability of Arakan State will inevitably be a Chinese aspiration, as it includes the land, which is considered China's Belt and Road Initiative, and the road access to the sea. In addition, Arakan State is a transit point for energy beyond the Strait of Malacca, and no matter how powerful it may be, the Chinese will not distrust the Arakanese people because of their many interests. Therefore, it is considered that China will be a good friend for Arakanese people. While weak, equality is not yet defined, but if internal sovereignty is well established, the proportions will inevitably change. 
For India, the Kaladan River, the most important river in Arakan State, is crucial for the stability and development of seven northeastern states, such as Mizoram, which borders Bangladesh and China. The Kaladan Multi-modal Transit Transport Project, which is based on the port of Sittwe, is crucial to connecting the seven landlocked areas such as Kolkata and New Delhi, which are different in colour and religion from other parts of India, as they have no access to the sea. As the area is under the strong control of the Arakan Army, the role of the Arakan Army will once again be important. When the Arakan Army was not as strong, India joined forces with the Myanmar military to clear territory, under the guise of Operation Dawn. 
Their main purpose was to protect the Kaladan project, fearing that the Meitei and Naga revolutionary forces, which were fighting for the dream of reunification, would become stronger if they joined the Arakan Army. However, as the Arakan Revolution continued unabated and became stronger day by day, India's thinking about the Arakan Army changed. It is safe to assume that the focus has shifted to the partnership. The revolutionaries in Mizoram, who had taken refuge in Arakan State during the revolution and are now self-governing, will inevitably know that cooperation with the Arakanese revolutionary leaders will be the only practical solution. 
The Arakanese people should also focus on economic, educational and maritime security and dominance, and on living as a good friend of India, the tiger of South Asia. Between a tiger of democracy and a communist elephant, it must have been like a wolf in the past. With a geographical position that can be revived as wolf hunting across the Yoma mountain range, only qualified leadership and invincible national unity will be key. Bangladesh is in a state of overcrowding. Therefore, it is a country that must pay special attention to political stability. 
Throughout the Chittagong Hill Tracts, Arakanese brothers including the Maramargyi and Thet ethnic people live, and the Arakan Army will not be treated as an enemy for border stability. Treating them as enemies is useless and self-defeating. Most Bangladeshi politicians would understand that if political instability like the current one in Myanmar develops, rivalries between the pro-Pakistan and pro-Indian factions could lead to the country's disintegration. Therefore, Bangladesh's stance on armed groups operating within its borders must be considered tense. However, it can be said that the attitude toward the Arakan Army operating on the Arakan-Bangladesh border has been ignored. This is because of the internal movements that could occur if the Arakan Army is treated as an enemy. It can be roughly assumed that it is a region with a lot of Chinese interests. 
In addition, the lack of cooperation between the Myanmar and Bangladesh militaries could be a factor. In any case, even if Bangladesh is not a good friend of Arakan State, it is unlikely to become an enemy. It is difficult to predict the political and military rivalry that has emerged since the Myanmar military came to power. Normally, hard power wins when it competes with soft power. In Myanmar today, the National League for Democracy (NLD) MPs and ethnic nationalities, who share the same beliefs, have gradually moved from strength to strength. 
However, the success of the revolution will not be easy without systematic and collective leadership. Only when we are tired of fighting each other can the country be left to fend for itself. For Arakan State, whoever wins, the winner will still have to negotiate with the United League of Arakan/Arakan Army ULA/AA)'s dream of a revolution. Compromises have yet to be made. If we do not negotiate, wars will break out again. In fact, the Arakanese and the Burmese have been living together for more than two centuries, so it is unlikely that they will become enemies. It should not be. It will be beneficial for both parties if both parties have the same attitude and balance.
It is clear that the growing military and economic power of Arakan State will not be a threat to Myanmar, and only through joint efforts will it be possible to easily prevent the intervention of other major powers. Only politically prudent leaders who can build unity on an equal footing can build such a situation, and at present only hope remains. Therefore, the concept of Might is Power is the only practical action. The leaders of the Arakanese revolution can be considered to be standing by this ideology and trying to bolster nation-building by prioritising the protection of their national interests. 
(4) Bad Governance in a Small Country Trap 
A leader is categorised into four types. (1) A leader who is generous and does not take benefits from others, (2) A leader who takes but does not give to others, (3) A leader who takes many benefits from others but gives less, and (4) A leader who gives many benefits to others, but takes less from others. It can be said that most of the successive leaders in Myanmar are numbers two and three types. If the ship's captain is bad, all passengers will be harmed, and all the people are suffering from armed conflicts and disasters due to the bad governance of the country's leaders. 
A country with good leaders is stable and developed, and a country without good leaders is a plague. Singapore, which has had a leader like Lee Kuan Yew, is proud to emerge as a small, prosperous country from the small island, and to have a leader like U Ne Win makes Myanmar one of the poorest countries in the world. One of the key competencies of a head of state is to be able to put the goals of the country into practice. The leader must have a good understanding of the needs and desires of his people and be able to put them into practice, not just words. A leader must be able to give dreams to the people he leads, and he must be able to work with his people to make those dreams come true. 
Leadership styles can be divided into four types — Autocratic Leader, Democratic or Participative Leader, Declarative or Laissez-Faire Leader, and Group Leader — and which leadership is best depends on the knowledge and moral maturity of the community. In a society dominated by communist ideology, democratic leadership will not succeed, and authoritarianism will not be accepted in a thriving democracy. Therefore, it is very important for a leader to have a good understanding of the political ideology and beliefs of the society he or she will lead. It would be unwise to use collective leadership or Group leader and Autocratic Leadership in a country with a different political ideology and cultural background like Myanmar. 
Even during the so-called "quasi-civilian government", the ethnic minorities suffered greatly as a result of the "winner-take-all" policy of self-interest under the guise of democracy. While the essence of democracy is that the majority must be in power and protect the rights of the minority as well, the existence of our country should also strive for the equal participation of the minority in the machinery of power. An all-inclusive policy must be implemented if we are to focus on security and development. While it is understandable that no good system can be achieved immediately, those who have ruled the country since independence have been intoxicated and are now facing a difficult revolution. Here, a brief analysis of the leadership of the Arakan Revolution and the ULA/AA, a political organisation, can be seen in seven main steps. 
These seven steps are (1) forming a military force, (2) military performances, (3) the Way of Rakhita, (4) State-Building and Nation-Building, (5) Bureaucratisation and professionalisation, (6) Public services and (7) formation of Arakanese nationalism. It is not easy to estimate exactly how many Arakan Army departments are currently operating, but it is arguably the most prominent and visible, as both the administration and the judiciary have been officially declared. Observations show that the ULA/AA's actions were initially reported to be 70% complete by the time it was announced. This is how the AA has been organised since the beginning of the military operation, and has now reached out to bureaucratisation and professionalisation and public services. 
However, some Arakanese people have high hopes for the Arakan Army and are increasingly demanding democratic rights. It will not be as effective as a legitimate government to meet the high needs and aspirations of the people. The five "Ms" of Manpower, Money, Materials, Methods and Morality have yet to be systematically supplemented. As a revolutionary government, it still has to act revolutionary. But with good credit, you might find exactly what you need. The ULA/AA, which has gained the most popular support through military performances, will have to work hard to bring about political, social, executive, judiciary and developmental performance while stopping military operations and working hard on state-building and nation-building. 
It is important to note that if these actions are not carried out effectively and efficiently and in a timely manner, we will not be able to reach the battlefield, which has been pursued by the Myanmar military for decades. It is true that skill is the key to revolution, but in building it, hard work must be the heart. The revolution that started in the jungle can only be said to be successful if it can be successfully planted in the villages and towns.  
This means that the construction work will only go further if there is a revolution in which the upper classes themselves are involved, beyond the cooperation of the common people and the middle class. In order for that to happen, the right people in the right places have to have more space. Only then can the revolutionary journey be completed well in a short period of time. At the moment, the leaders have to work hard and the people have to work together patiently.