Arakan State Soil Addicted to Chemical Fertilisers
By Admin 15 Feb 2023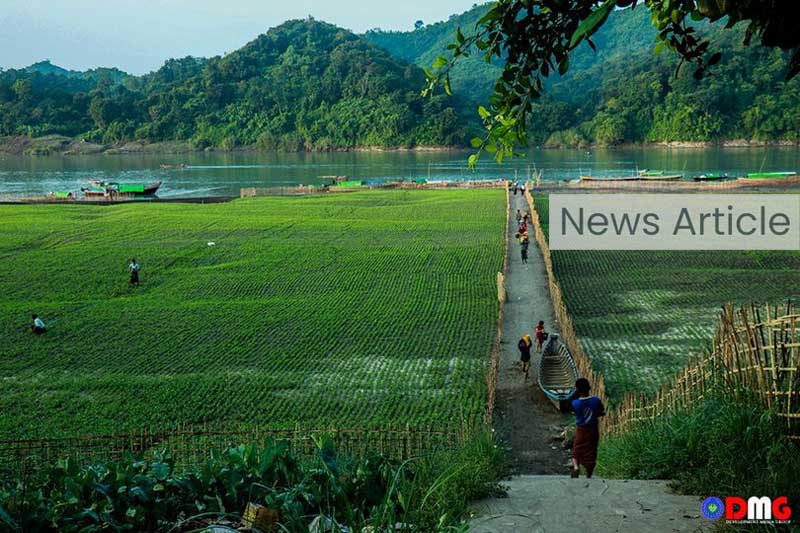 Written by Gaung
"Every crop grown in this soil turns into a bumper harvest, and rice and fruits are abundant in the land of Arakanese people."
So goes a lyric from the song "This is the Arakanese nation, this is Arakan land," written by Arakanese composer Ko Than Maung, describing how fertile the soil is, and how successful the agriculture industry is, in Arakan State.
But things are quite the opposite in Arakan State today, with the agriculture industry on the verge of collapse. Farmer U Maung Shwe Aye, 58, sighed as he looked at patches of stunted rice plants scattered across his 10 acres of paddy fields.
"The panicles have few grains in their spikelets," he said, using terms for the rice plant that may not be familiar to non-farmers, but are an important predictor of rice yields.
The harvest this year has declined by a one-third, according to U Maung Shwe Aye, who suspects that the soil on his 10 acres has been negatively affected by the continuous use of fertiliser over the years. He describes the situation as a dependency problem.
So when a general increase in costs of living and high fertiliser prices in post-coup Myanmar meant U Maung Shwe Aye could not apply fertiliser to his fields as he normally would, the results were underwhelming.
Fellow farmers in Lan Pike Kwin Village, part of Arakan State's Kyauktaw Township, are experiencing the same problems. Indeed, many farmers across Myanmar report suffering the consequences of excessive use of chemical fertilisers.
The past few years aside, Myanmar's fertiliser consumption situation has been increasing steadily. In 2002, 4.29 kilogrammes of fertiliser was used per hectare of agricultural land, and by 2016, it had increased more than fourfold, to 17.87 kilogrammes, according to the World Bank's 2019 country-by-country fertiliser consumption chart.
More than 10 farmers interviewed by DMG said they have had to use more and more fertiliser, year after year, in order to maintain yields and grain size.
But in recent growing seasons, farmers were forced to scale back or stop using fertiliser altogether as the price became prohibitive.
U Thinkha Aung, a farmer from Lan Pike Kwin Village, said: "There are various brands of fertiliser. I had to use a cheaper brand because of high prices this year, and the yield was poor."
The practice of using chemical fertilisers on rice and other crops probably dates back to some 40 years ago, said farmers. Before that, local farmers in Arakan State only used organic fertiliser, such as cow manure or burnt paddy husks.
"When we started to use chemical fertilisers, the yield increased, so farmers were happy," said farmer U Aung Kyaw Mya from Pyaung Seik Village in Kyauktaw Township.
Fertiliser prices were not high then. But prices have increased because of armed conflicts, economic stagnation and the depreciation of the kyats that followed the military takeover in February 2021.
"Our fields are like an alcoholic who starts with a glass or two a day, and later drinks more than one bottle a day," said U Aung Kyaw Mya. "Similarly, the soil has become addicted to fertiliser."
The excessive use of chemical fertiliser also kills insects and other creatures that are beneficial to the soil. Fields in Arakan State have fewer and fewer earthworms, also known as "nature's plough" for the way they are active in turning, mixing and aerating the soil, say agriculturalists.
"Using fertiliser is like killing the soil. All the creatures will die when the soil dies. It will ultimately affect mankind," said U Kyaw Zan, chairman of Arakan State Farmers' Union.
"Consuming products grown with fertilisers is like eating poison. And agricultural produce grown with chemical fertilisers won't sell in the international market," added U Kyaw Zan.
Concerned government departments have failed to properly educate farmers about how to make organic fertiliser and properly use chemical fertilisers. Local organisations alone can't handle it, and it calls for intervention from the government, say civil society groups in Arakan State.
Under the current situation, it is not possible for farmers in Arakan State to immediately stop using fertilisers. Experts and people working in organic farming suggest that it is time to ween the soil off of chemical fertilisers.
"For example, if we used one bag of fertiliser per acre of farmland in the past, now we have to add about half natural fertiliser, and reduce [chemical fertiliser use]," said Ko Ye Htun Myint, who is in charge of Orgae Land's technical team.
The group is currently piloting organic farms in the townships of Sittwe, Kyauktaw, Mrauk-U, Minbya and Pauktaw.
Organic farmers say that due to many years of excessive use of fertilisers, the soil is acidified and the soil is toxic.
"This year, many pepper plants and tomato plants have withered and died," U Ye Htun Myint said.
Farmers in Arakan State still lack general knowledge about soil and proper use of fertilisers. For their part, the farmers say the government has not yet taken any steps to measure soil degradation.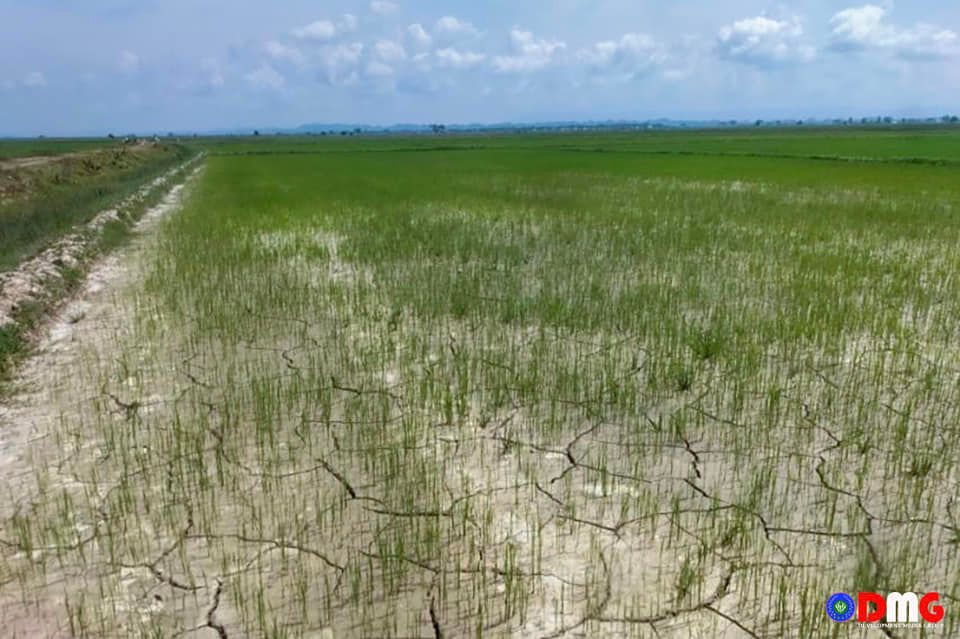 According to agriculturalists, as a result of the excessive use of chemical fertilisers in Arakan State, the soil is undergoing chemical changes and soil degradation that make drought conditions more problematic for crops. This has agriculturalists worried about a future in which climate change will play a big part. It will take many years to rehabilitate the damaged soil, they say.
There are more than 1.1 million acres of arable land in Arakan State, according to figures compiled by the Arakan Farmers' Union. It is not yet known exactly how much agricultural land has been damaged due to the wanton use of fertilisers.
U Maung Shwe Aye can't help but be sad about the consequences of soil degradation, which are playing out in the present day and are expected to grow more dire in the future if farmers' habits don't change.
"If this is the case," he said ominously, "I don't know what will happen to farmers in the future."