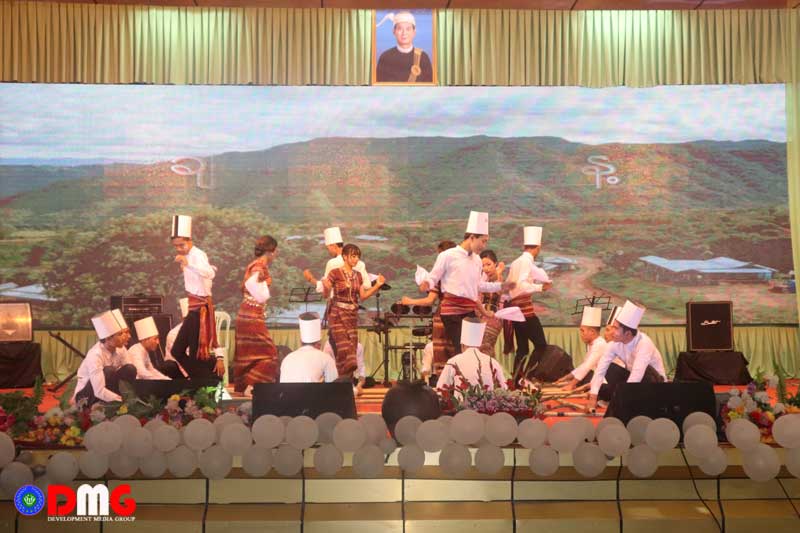 Myo Thiri Kyaw | DMG
February 20, Sittwe
The 72nd Chin National Day was celebrated at U Ottama Hall in Sittwe on February 20 but attendance was down compared with previous years, with event organizers blaming the increasingly unstable situation in the region for 2020's lower headcount.

Chairperson Salai Tun Hla Kyaw from the Chin Student Union (Sittwe) said past years' attendees hailed from several other townships in the region, but fewer people had joined this year's celebration in part because roads have been closed due to fighting between the Tatmadaw and Arakan Army.
"We included many programs at the event last year but reduced some programs this year because the current situation of Arakan State isn't stable. People who attended the celebration were fewer than last year," he said.
The celebration was jointly organized by the Chin Student Union (Sittwe) and the Chin Literature and Culture Committee (Sittwe) with the aim of fostering positive relations among ethnic groups and a sustainable and strong peace. 
Advisor Mai Khaing Zin May Than used the occasion to demand that armed groups stop fighting in Arakan State.
"Not only Arakan people but also Chin people suffer from the conflict. The public are having health, education and transportation issues because of the conflict. We want to stop the war. Development works for the public benefit will be less likely to come to fruition in the future if the fighting continues," she said. 
The Arakan State Chief Minister U Nyi Pu, members of the state government, and Arakan and Chin youths attended the celebration.
The chief minister experienced the conflict firsthand this week when a helicopter he was aboard was shot at over Arakan State's Rathedaung Township. The chopper sustained minor damage but no one was injured in the incident.