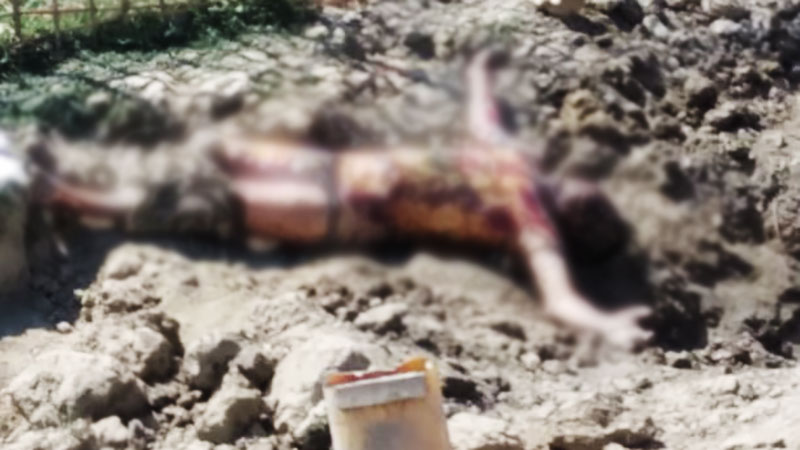 Hnin Nwe | DMG
March 2, Mrauk-U

The bodies of three men out of 13 people who went missing after fighting took place near Myaung Bway village in Mrauk-U Township, Arakan State, were found on March 2, locals said.

The bodies were found under a bridge near Shan Taung village, which is about one mile away from Myaung Bway village. The dead are Ko Maung Kyaw Khaing, 36, from Lat Than Chay village; Ko Maung Than Htay, 39, from Kywal Tel village; and Habib Ar Laung, 52, from Bu Ta Lone Muslim village.

"These decaying bodies were found first by Muslims who live in Shan Taung. They were found with cut injuries on their necks and chests and they had gunshot wounds as well," said a local who wished to remain anonymous.

The three men were arrested by the Tatmadaw after the clashes occurred near Myaung Bway village on February 29, said Pyithu Hluttaw lawmaker U Tun Thar Sein from Mrauk-U Township.

Among them, Ko Maung Kyaw Khaing ran a fishery business and was arrested by the Tatmadaw while he was loading fish and prawns into a truck near Kywal Tel village to ship them to Yangon, said Lat Than Chay village administrator U Win Maung.

Likewise, Ko Maung Than Htay was arrested on his way from Kywal Tel village to Myaung Bway village, and Habib Ar Laung went missing in the vicinity of the other arrests, according to the men's family members and locals.

Moreover, the body of U Maung Saw Hlaing, a 47-year-old who went missing from Shwe Hlan village, was found near Myaung Bway Bridge on March 1, the victim's family members said.

DMG phoned Colonel Win Zaw Oo, spokesperson for the military's Western Command, and Brig-Gen Zaw Min Tun from the Tatmadaw True News Information Team, but they could not be reached for comment.

Skirmishes occurred after the Arakan Army (AA) attacked a Tatmadaw convoy near Myaung Bway village on February 29. Nine civilians from Bu Ta Lone, Amyot Taung, Lat Than Chay, Kywal Tel and Shwe Hlan villages were killed and 18 others were injured due to the fighting, according to a statement issued by the Rakhine Ethnics Congress (REC).