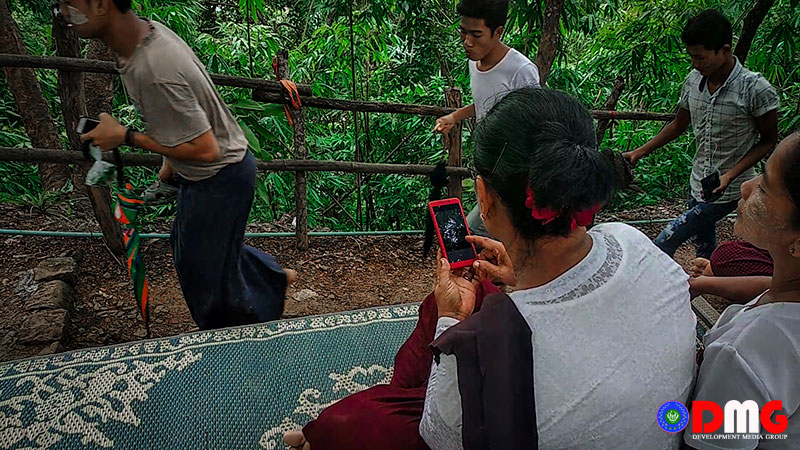 Khin Tharaphy Oo | DMG
19 June, Sittwe 
Seventy-eight organisations including political parties, civil society groups and media outlets have sent an open letter to Myanmar's president and state counsellor requesting that they lift the one-year-old internet ban imposed in seven Arakan State townships and Chin State's Paletwa Township. 
A spokesperson for the coalition, Saw San Nyein Thu, said the June 19 demand was made because regional instability has increased in war-affected areas since the ban was put in place, despite the government's insistence that withholding internet access was intended to maintain rule of law in the affected townships. 
"The internet ban escalates clashes in the region and civilian casualties have increased there," Saw San Nyein Thu said. 
The internet blackout has also led to increased economic hardship and violations of human rights, as well as denying more than 1 million people timely access to information, she said. 
The letter also asked that charges under the country's Counter-Terrorism Law be dropped against journalists; urged that a ban on regional news media websites be lifted; and called for local and foreign journalists to be given ample access to information to facilitate reporting on the real situation in Arakan State. 
The letter suggests that the government help INGOs and NGOs to have unrestricted access to war-affected people in Arakan State to allow these organisations to provide needed humanitarian aid for IDPs. 
The Arakan State Hluttaw has approved a proposal to lift the internet ban, and Arakanese students, the freedom of expression advocacy group Athan and other activists have previously demonstrated in support of restoring internet access in the region, but thus far to no avail.
The government first imposed the internet shutdown in eight Arakan State townships, as well as Paletwa Township in Chin State, on June 21, 2019. It was lifted temporarily in a handful of those townships in September of last year, only to be reimposed on February 3. In May, it was restored for a second time in Maungdaw Township, Arakan State.