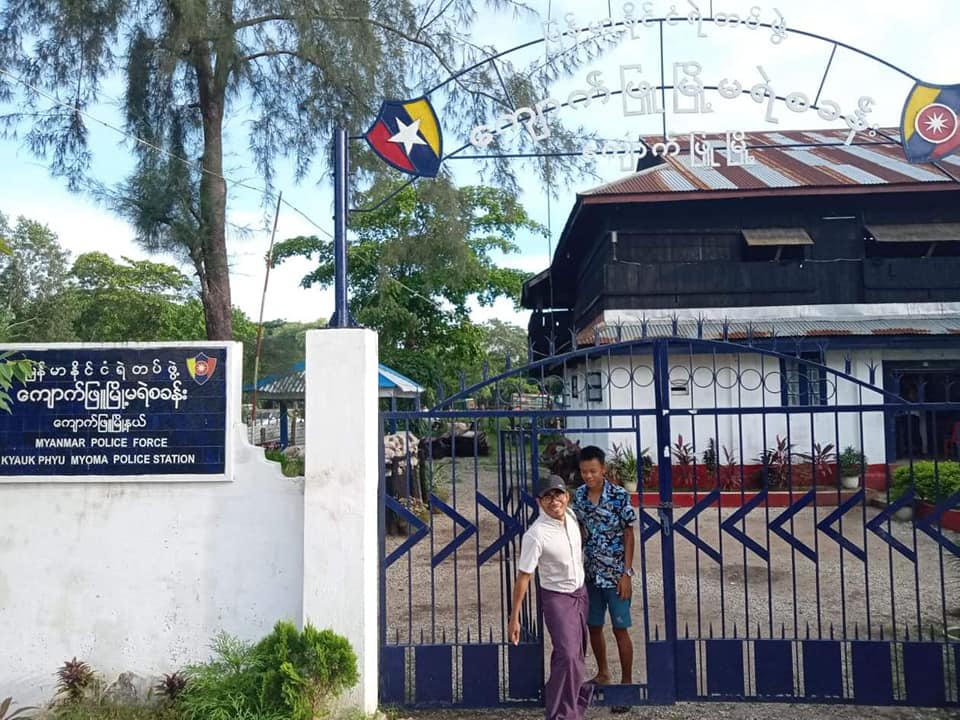 Thiha | DMG
25 June, Sittwe 
Two activists from Kyaukphyu town, Arakan State, are facing charges under Section 19 of Myanmar's Peaceful Assembly Law after uploading photos on social media in which they are pictured wearing matching T-shirts that read, "Oppose internet oppression". 
Several people wearing the T-shirts posted their photos on June 21, the day that a government-imposed internet ban in seven townships of Arakan State and Paletwa Township, Chin State, turned one year old. 
Ko Min Za Aung and Ko Nay Soe Khaing, the two young men facing legal trouble as a result of the social media posts, are members of an Arakan National Party youth affairs committee in Kyaukphyu Township. 
"I was on a trip when police phoned me. I went to the police station on June 24 and was granted bail," said Ko Min Za Aung. 
"The campaign was carried out not only in Arakan State, but also in other areas. Those who want peace throughout Myanmar participated in the campaign. But Arakanese youths have had a lawsuit brought against them, and it raises questions," he said. 
On June 25, a leading member of a youth network in Ramree Township, Arakan State, was ordered by the township court to pay a K20,000 (US$13.80) fine for uploading a photo of himself wearing a T-shirt in opposition to the internet shutdown. 
With the government's internet ban entering its second year this week, lawmakers, foreign embassies, residents, and civil society and nongovernmental organisations have called for restoring internet access in the affected townships.