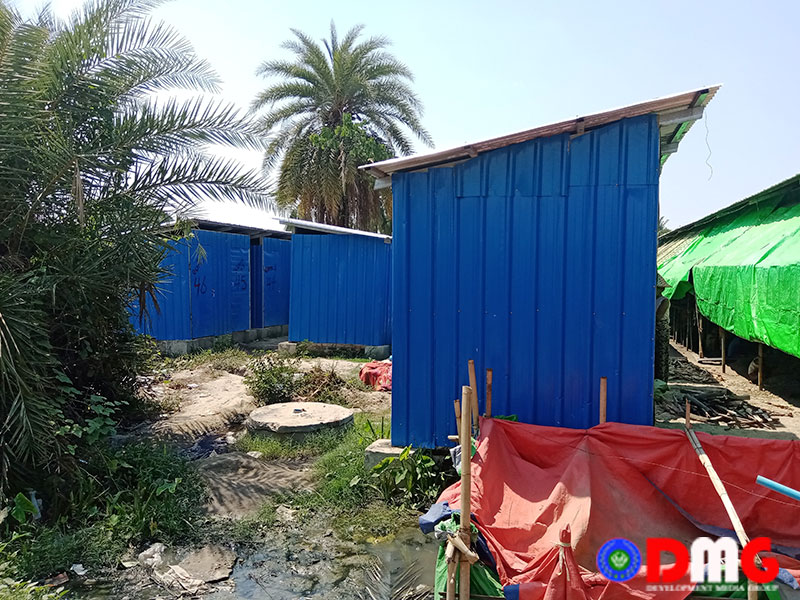 Hnin Nwe | DMG
29 June, Sittwe

Some displacement camps in Arakan State's Mrauk-U, Kyauktaw and Myebon townships are lacking adequate toilet facilities, with IDPs concerned about potential health consequences.
There are only five toilets at the Sanyin IDP camp, where more than 400 people from several villages in Myebon Township are sheltering, the manager of the camp said.
Ko Thura Moe, the manager, said the camp is in dire need of more latrines but did not have donors to build them. IDPs also need healthcare, he added.
"If we ask for help from international organisations, we are always told that they cannot come and provide help because the camp is not officially opened by the government. If an IDP suffers diarrhoea, they have to go to a village to receive medical treatment," Ko Thura Moe explained.
Nyaung Chaung IDP camp in Kyauktaw Township, where more than 2,500 IDPs are living, is also facing insufficient toilet facilities, the camp manager said, with only 11 toilets there.
"Villagers come here thinking they are safe here. But the situation in the camp is not as they expect. The camp is facing food insecurity and accommodation is poor. If someone is facing health problems, the situation is worse," said Ko Khaing Myo Aung, the Nyaung Chaung camp manager.
In May, his camp asked for help from UNICEF and the International Committee of the Red Cross to build more toilets in the camp, but the camp did not receive any help so far, with the organisations responding that they did not receive permission from the government.
Nay Pu Khan IDP camp in Kyauktaw Township, where more than 1,200 people are taking shelter, has more than 40 toilets and IDPs are worried about the possibility of a diarrhoea outbreak, said camp manager U Maung Aye Soe.
"We try as much as we can to clean the toilets, as the health department instructed. But all toilets are not clean enough and we are worried about a diarrhoea outbreak," he said.
Some IDPs in Nyaung Chaung and Sanyin IDP camps suffered from diarrhea in May and the illness is still occurring there, camp managers said.