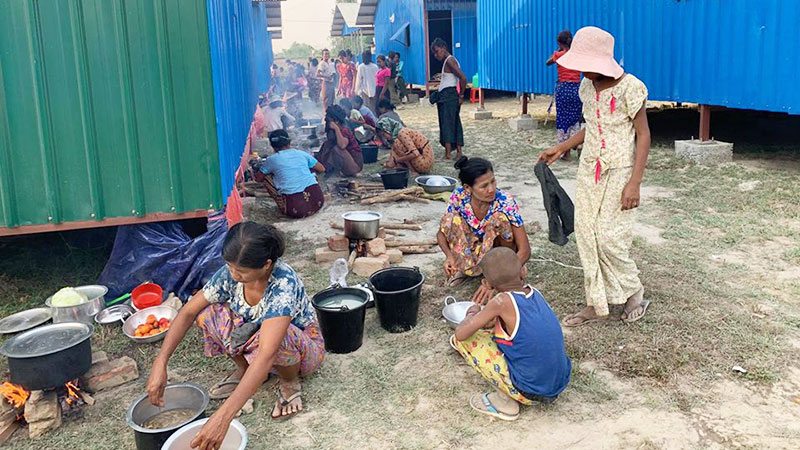 Hnin Nwe | DMG
9 July, Sittwe 
About 2,000 internally displaced people are taking refuge in six government-built IDP camps in Arakan State's Mrauk-U, Kyauktaw, Ponnagyun, Rathedaung and Buthidaung townships, according to the Rakhine Ethnics Congress. 
Because of crowding at independently established IDP camps, people are taking shelter in the government-built displacement camps, said U Zaw Zaw Tun, secretary of the REC. 
"Schools cannot host them because the new academic year will be resuming. So, IDPs who are taking shelter in school buildings have to relocate and they decided to choose government-built IDP camps because self-established IDP camps are crowded," he said. 
Previously, people have declined to take refuge in government-built IDP camps or otherwise expressed dissatisfaction with them because the settlements tended to be far from their villages. 
A contingent of IDPs began moving into the Yay Phyu Kan IDP camp, a government-built option in Ponnagyun Township, on April 9. 
More than 500 people are taking shelter in the camp at the moment, said camp manager U Maung Aye Shwe. 
"We are not accommodated if we are provided only rice and beans. We need to get a job to earn money so that we can buy everything we need. Although we are taking shelter in the government-established camps, we got nothing," he said. 
The World Food Programme twice provided two tins of rice per person, cooking oil, salt and beans, in March and June, he said. 
"We are in trouble for living and food," said Ko Htay Maung Win, an IDP at Yay Phyu Kan IDP camp. "We relocated to this camp because we heard that IDPs are provided dried fish and rice. We get to stay with our own room here, so it is convenient for us. For food, we have to depend on organisations. The government did not provide food for us." 
U Win Myint, state minister for Municipal Affairs, said the government will provide food supplies as before after updating lists of IDPs in the camps. 
"We are not sure if the new arrivals informed the department. After we've listed all of them, we will provide them as we did before," he said. 
According to the Rakhine Ethnics Congress, there are more than 190,000 IDPs in Arakan State due to ongoing conflict between the Tatmadaw and the Arakan Army.