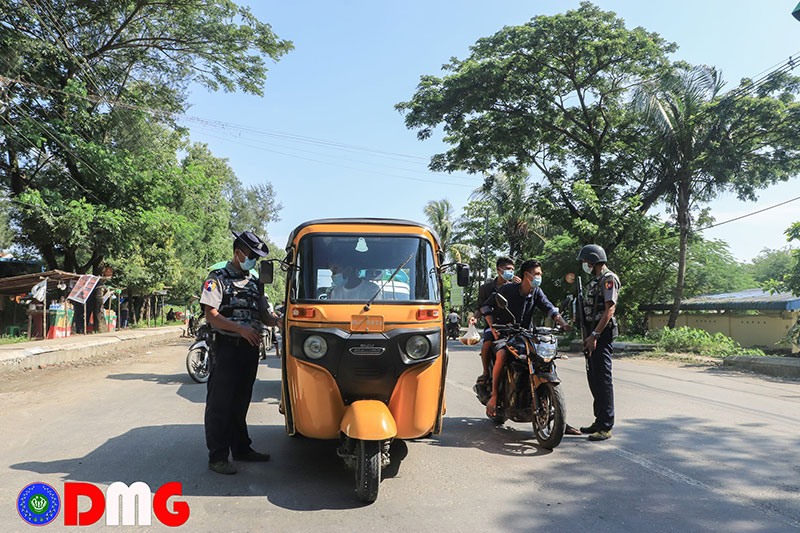 Khin Tharaphy Oo | DMG
8 October 2020, Sittwe 
Tenants in some Sittwe wards are complaining that they have not received outpass cards required to leave residences to shop or run other necessary errands under restrictions intended to prevent the spread of COVID-19.  
Those who report having not received the cards are tenants of North Rupa and Sinku Lan wards in Sittwe, the Arakan State capital. 
"We were told that we had not made a contract with the administrator when we rent houses. That was why we were not given the outpass cards. They blamed this when we went to ask for the cards. I think he shouldn't do like this as a leader," said one tenant of North Rupa Ward who did not want to be named for fear of reprisal. 
Despite multiple attempts, DMG was unable to reach North Rupa Ward administrator U Zaw Zaw Thar by phone. 
In other Sittwe wards, some people who have moved from elsewhere are also facing difficulties obtaining these cards as they are being issued only if they have household registration cards. 
"We still just don't have the household registration in Sinku Lan Ward; there is no answer for the issue. So, we are not able to go out," a resident of Sinku Lan Ward said.  
If travel restrictions like this are to be imposed, they should be implemented more systematically, said U Nyein Chan, a lawyer in Sittwe.  
"We are hearing these complaints. The guests in the wards who are really working are not getting the outpass cards. These are weaknesses in preparations," said U Nyein Chan.  
"For example, a list of people actually living in the ward should be compiled by the ward administrator and clerks. They are not doing like that. They just base [outpass card distribution] on the household registration cards. So, these problems arise. Only after verifying who is really living in the ward, they should make a list to issue outpass cards."  
Sittwe has issued an order for all residents to stay at home from October 7-21 unless holding an outpass card. A fine of K10,000 has been threatened for those going out without the cards. As of October 15, legal action will be taken against violators under the Natural Disaster Management Law, according to Sittwe Township administrator U Aung Zaw Oo. 
U Aung Zaw Oo said he was not free to take questions when DMG phoned him to inquire about reported problems with the issuance of outpass cards. 
As of October 8, there were 1,852 COVID-19 infections reported in Arakan State, according to the Ministry of Health and Sports, more than 75% of whom have been discharged from hospitals. Seven deaths were recorded statewide as of the ministry's October 8 update.