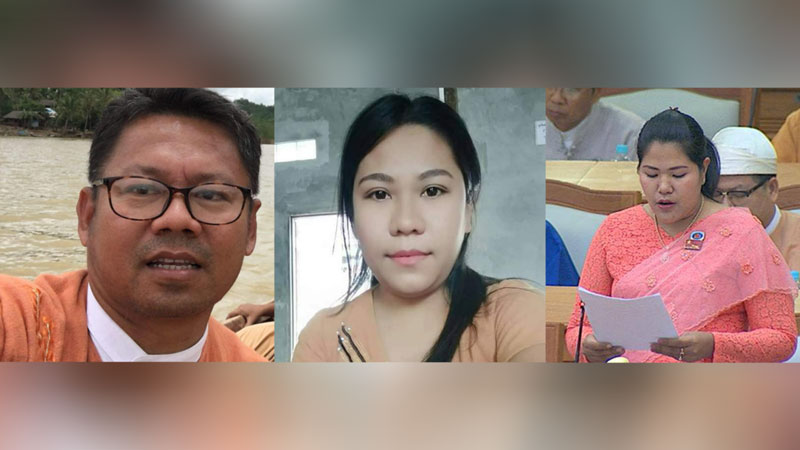 Min Tun, Myo Myint Zaw | DMG
19 October 2020, Sittwe
The Arakan Army (AA) issued a press release on October 19 saying it was responsible for the abduction of three National League for Democracy (NLD) candidates contesting the upcoming general election in Taungup Township, Arakan State.
In a lengthy recitation of the ethnic armed group's grievances against the current civilian government and the Tatmadaw forces it has waged war against for nearly two years, the AA said it had "unavoidably taken the three crooked NLD members" on October 14. 
"We will release the three of them if the NLD government release [sic] politicians, students and innocent people without exception who have been arrested and detained unlawfully for demanding peace," the statement added.
 Dr. Myo Nyunt, a spokesperson for the NLD, rejected that proffer. 
"They mentioned an exchange of prisoners of war. The people they demanded are not POWs. They are lawbreakers who have been sentenced to punishment for their guilt after given a chance to defend themselves at trial under the law," he said. "The three NLD candidates they arrested are not POWs. As such, the AA should release those candidates as quickly as possible without demanding an exchange of POWs." 
Dr. Myo Nyunt called the abductions "an act of terror," adding: "Such acts cannot solve political problems. Actually, if the AA wishes to solve political problems, it would be most appropriate to release those three candidates."  
The AA statement said its offer of a "POWs swap" was consistent with its longstanding willingness to consider exchanges of prisoners. 
The three NLD candidates detained by the AA last week are Daw Ni Ni May Myint, running for the Pyithu Hluttaw seat in Taungup Township; U Min Aung, a candidate for the Arakan State Hluttaw; and Daw Chit Chit Chaw, contesting the Amyotha Hluttaw seat representing Taungup.
"They have been summoned and brought to testify, and will be detained and investigated as required by circumstances till a certain time," the AA statement said. 
The NLD said the abduction of its three candidates had set back Myanmar's peace process, as well as disrupting the conduct of the 2020 election. 
The vote is slated for November 8, but nine of Arakan State's 17 townships will not hold elections due to the Tatmadaw-AA conflict.  
The AA concluded its sharply worded condemnation of the government and Tatmadaw by nonetheless insisting that it "is ready to start the political dialogue for the peace process by ending all the fighting as soon as possible."