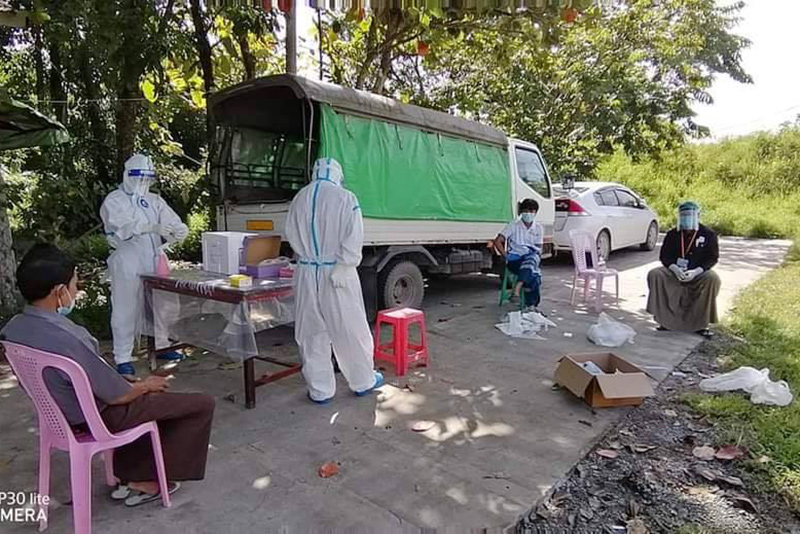 Nyan Hein | DMG
3 November 2020, Sittwe 
The number of COVID-19 fatalities in Arakan State stood at 18 as of November 3, according to state health officials. 
With the latest victim a 50-year-old man from Kyaukpyu Township who succumbed to the disease on November 1, Arakan State's coronavirus-related deaths had reached 18, said Dr. Soe Win Paing, assistant director of the Arakan State Public Health Department. 
The department said the 18 deaths broke down, on a township basis, to six from Sittwe; one from Kyaukphyu; two from Mrauk-U; seven from Kyauktaw; and two from Pauktaw. 
"COVID-19 has spread across Arakan State. There is no township left without a COVID case. Ramree and Manaung townships, with no infections previously, have now reported five cases. There are more than 1,000 cases in Sittwe. So, we want people to follow the stay-at-home order," Dr. Soe Win Paing told DMG.  
Up to November 3 in Arakan State, there were 2,871 COVID-19 infections and 2,704 had been discharged from hospitals, with 167 patients undergoing treatment. 
Countrywide, 54,607 people had been infected with COVID-19 as of Monday evening, of whom 37,954 were discharged from hospitals and 1,282 had died, according to the Ministry of Health and Sports. 
A spike in COVID-19 cases that began in mid-August has continued even as campaigning takes place, to varying degrees, across the country ahead of Myanmar's November 8 general election. Large gatherings at campaign rallies have sometimes prompted consternation among health officials and the Union Election Commission, which laid out special instructions for political parties and candidates amid the pandemic but has acknowledged weaknesses in both compliance and enforcement of the COVID-19 rules.  
The Ministry of Health and Sports will make an Election Day exception in areas where coronavirus stay-at-home orders are in effect, allowing the gathering of more than 30 people for voting purposes.