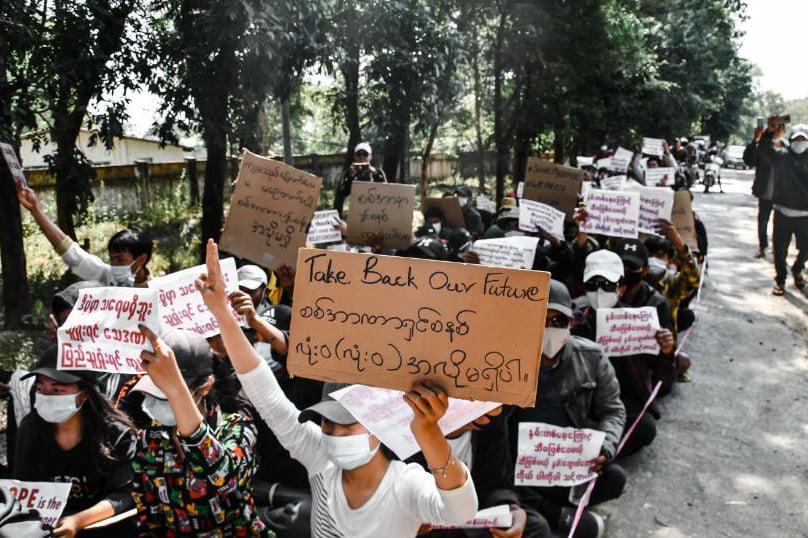 DMG Newsroom
7 March 2021, Sittwe 
Four Thandwe Township residents who were arrested and charged under the Peaceful Assembly Law and Natural Disaster Management Law last month for participating in a protest against the military coup are expected to make an initial court appearance on Monday. 
The three men and lone female defendant were arrested by police on February 16 and charged under Section 19 of the Peaceful Assembly and Peaceful Procession Law, as well as Section 25 of the Natural Disaster Management Law, according to a man who is assisting the four and asked for anonymity. 
"The court hearing was set for March 8. But I don't know if the court hearing will be held as scheduled. The judge said he was not allowed to talk about the hearing in consideration of the security risks," he said. 
It was not clear if the hearing would be held via video conferencing or if the defendants would be brought to the court, said U Nyunt Maung, a lawyer representing one of the three male defendants, who is an electrical engineering student. 
"I feel like they are being targeted. Arakan State is not under a curfew. I can't understand why they [police and military] did so [arrested the foursome] and what grievances they are harboring against the people. The charges are unfair," said a woman who has participated in anti-coup protests that have taken place since the military seized power on February 1.  
More than 20 people in Arakan State have been arrested for alleged involvement in protests against the military regime.  
Seven residents of Ann Township were charged under the Natural Disaster Management Law and the Peaceful Assembly Law, with a local court on February 24 ordering each defendant to pay a fine of K80,000.