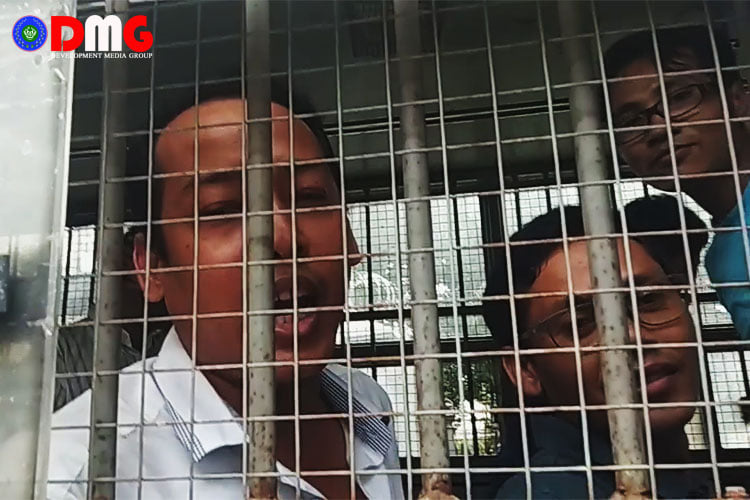 DMG Newsroom
4 May 2021, Yangon 
Yangon's Western District Court on Tuesday heard a prosecution witness in the case of the younger brother of Arakan Army (AA) chief, Major-General Twan Mrat Naing, and seven others who were arrested in 2019 and charged under Myanmar's Counter-Terrorism Law. 
One of the case's final prosecution witnesses, Police Captain Zaw Moe, testified at the court on Tuesday, according to the defence lawyer. Thirteen of the 14 prosecution witnesses have testified and the court will decide whether or not to proceed with charges after hearing the final witness. 
"Police Captain Min Min Thu will be heard at the next court hearing on May 11. The following week, we will submit our final argument about why they should not be charged," said defence lawyer U Aung Kyaw Sein. 
The AA chief's brother, Ko Aung Mrat Kyaw, and his colleagues were arrested by Singapore police on July 10, 2019, over allegations that they were financially backing the Arakan Army. 
Most of the accused belong to the Arakanese Association-Singapore (AAS), a social welfare organisation that contributes relief aid from Singapore to Arakanese people displaced by fighting in Arakan State. 
They were subsequently deported to Myanmar, where authorities arrested them on arrival at Yangon International Airport and charged them under Section 50(j) and 52(a) of the Counter-Terrorism Law. 
A total of 362 people were arrested and charged under the Counter-Terrorism Law on suspicion of having ties to the AA over two years of fighting between Myanmar's military and the Arakanese ethnic armed group, according to Thazin Legal Institute. Seventy-eight of them have so far been released due to lack of evidence.  
The State Administration Council (SAC), as Myanmar's junta describes itself, rescinded a declaration of the Arakan Army as a terrorist group on March 11. 
The families of detainees charged under the Counter-Terrorism Law over alleged AA ties have expressed hope for the release of the accused following the de-designation. A spokesman for the military's governing body in Arakan State, however, last month said the lawsuits could be dropped only with the approval of Myanmar's Anti-Terrorism Central Committee.