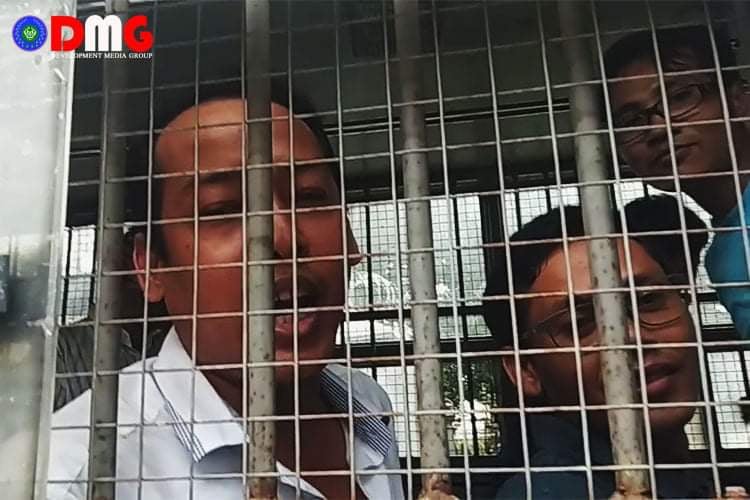 DMG Newsroom
2 June 2021, Yangon 
The eight were arraigned at the Western District Court of Yangon Region on June 2, but Police Major Tint Shwe filed a motion to dismiss the case, according to defence lawyer U Aung Kyaw Sein. 
"The Special Branch [police] filed a motion to the district legal office to dismiss the case. The case was being prosecuted with the permission of the Central Committee for Counter Terrorism. As usual, the legal office must dismiss the case directly in court. However, it also sought the consent of the Central Committee for Counter Terrorism. If the legal office allows the revocation, the case will be over," the lawyer explained. 
U Aung Kyaw Sein added that the last prosecution witness, Police Captain Min Min Thu, arrived at the court hearing on Wednesday only to find that the case was being dropped. The judge dismissed the final witness without hearing his testimony. 
The trial of the eight is set to resume on June 9, with the Central Committee for Counter Terrorism announcing whether they will be released or not, he added. 
Leaders of the Arakan Association (Singapore) Ko Aung Mrat Kyaw; Ko Tun Aye; Ko Hein Zaw; Ko Ye Kyaw Htet; Ma May Gyi; Ko Tin Hlaing Oo; Ko Mrat Lay Oo; and Ko Shwe Hlaing Than were arrested in July 2019 on charges of having ties to the Arakan Army and providing financial support for the ethnic armed group. 
The eight Arakanese youths were charged under Section 50(j) and 52(a) of the Counter-Terrorism Law by Police Major Tint Shwe from Yangon Region's Special Branch. 
The Arakan Association (Singapore) is known as an organisation that provides assistance to people affected by natural disasters in Arakan State. 
More than 200 people were arrested on suspicion of having illegal ties to the Arakan Army during the two years of fighting between the Tatmadaw and the ethnic armed group in Arakan State, according to data compiled by Thazin Legal Institute. 
Seventeen cases of minors arrested on suspicion of illicit AA affiliations were dropped last month, said U Hla Thein, a spokesman and attorney-general for the Arakan State Administration Council.