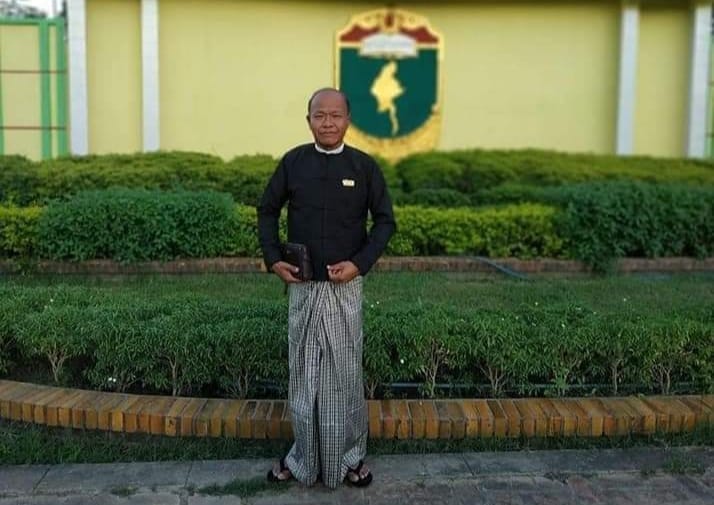 DMG Newsroom
2 August 2021, Paletwa

Myanmar's military caretaker government on Sunday appointed a retired deputy director of the Education Department in Arakan State as minister for ethnic affairs in Chin State.

U Sein Tun Hla will take up the Chin State ethnic affairs minister post, which was created by the junta for each state and regional government via a "reconstitution" of the state/region governments' structure announced on August 1.

U Sein Tun Hla told DMG he was committed to fulfilling the duties of the new role.

"I am interested in the task I've been appointed to. I've decided to work my best," he said. "I did not expect the duty. As I was assigned the duty recently, I accepted it proudly. The people accept me. I've decided to work my best, regardless of race and religion, for the development of Chin State," he said.

U Sein Tun Hla worked as deputy director at the Education Department in Arakan State from December 2016 to March 2020.

Ko Tin Tun Aung, a resident of Paletwa Township, Chin State, welcomed the Arakanese perspective that U Sein Tun Hla would bring to Chin State governance.

"In Paletwa, during the 74 years since Myanmar achieved independence, successive governments did not appoint any Arakanese people. This man is a retired education officer. I am glad the military council has appointed him to work in Chin State," he said.

There were some criticisms on social media over the appointment of an Arakanese person as ethnic affairs minister for Chin State, where ethnic Chin and a handful of ethnic "subgroups" predominate.

U Aye Kyaw, an ethnic Khumi man in Paletwa Township, said: "It is too early to tell whether I can accept him or not. It depends on his performance."

In a national address on August 1, Senior-General Min Aung Hlaing announced that the State Administration Council (SAC) would be reconstituted into a "provisional government," naming himself at the head of that government as prime minister. The senior-general had been serving as chairman of the SAC, following a military coup on February 1 that toppled Myanmar's elected government.

The military government on Sunday announced 14 new ethnic affairs ministers; one for each of Myanmar's states and regions. All 14 appointees appear to be men.

U Tin Hla was appointed ethnic affairs minister for Arakan State.