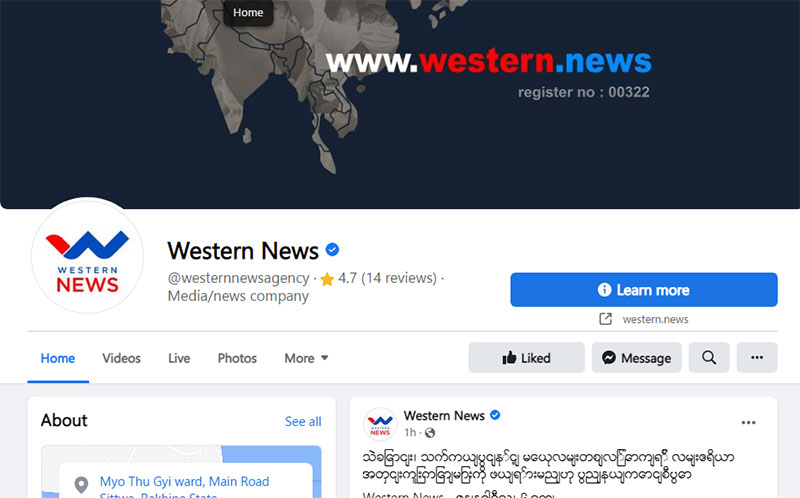 DMG Newsroom
22 January 2022, Sittwe
A Myanmar military officer has filed a lawsuit against Ko Wunna Khwar Nyo, editor-in-chief of Western News, and a reporter from the Arakan State-based news outlet, at the Sittwe District Court.
On its Facebook page Saturday, Western News posted that Major Phone Myat Kyaw opened a case under Section 124(a) of the Penal Code, a provision on treason that carries with it a maximum sentence of 20 years in prison.
"We were informed of the news from a source close to the court. Major Phone Myat Kyaw filed a lawsuit against Chief Editor Ko Wunna Khwar Nyo along with a reporter," confirmed Ko Tun Thar, an assistant editor from Western News.
On December 28, Western News reported that a white flag was seen hoisted on a hill where a Myanmar military battalion is stationed in Paletwa Township, Chin State.
"We don't consider the lawsuit to be justified. There are no plans to deal with the lawsuit. Since the coup, the Myanmar military has been doing what it wants to do. If they [military officers] do not like it, they can sue. At such a time, we have no plans to face the lawsuit," Ko Tun Thar said.
Veteran journalist U Myint Kyaw said that after the military coup, persecution of news outlets and journalists was being used as a way to censor the flow of information.
"As the number of such incidents has increased, so has the number of propaganda reports that endanger the people," he added.
U Tin Tun Aung, a resident of Paletwa town who was interviewed in the offending Western News story, was charged under Section 505(a) of the Penal Code.
Many of the news agency's employees have since gone underground, fearing potential arrest.
In May 2019, DMG Editor-in-Chief Aung Marm Oo went into hiding after Special Branch police in Sittwe opened a case against him under the Unlawful Associations Act. In addition, Ko Nay Win San, deputy editor- in-charge of DMG and Ma Hnin Nwe, a female reporter, were sued under Section 66(d) of the Telecommunications Law and Section 505(a) of the Penal Code. 
DMG maintains its employees' innocence in each case.