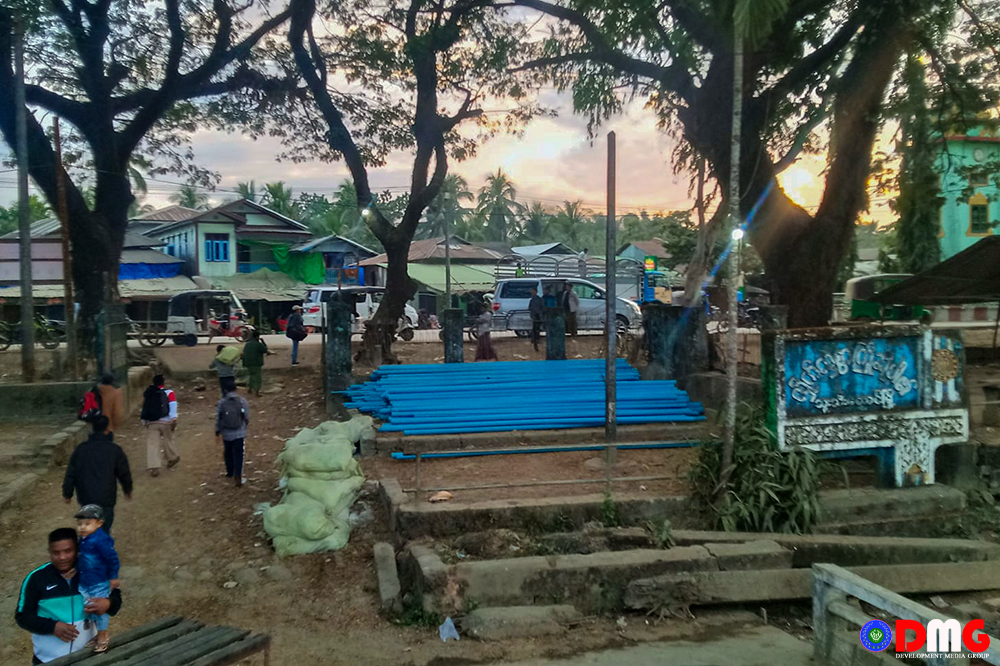 DMG Newsroom
4 November 2022, Buthidaung

Only seven of 21 Arakanese and Muslim people detained by the Myanmar military at the central market and near the local jetty in Arakan State's Buthidaung Township on October 23 have been released so far, and the others have been denied family visits nearly two weeks into their detention.

Police constable Zaw Win, who was also detained on October 23, was released two days later. Two Muslim men, a tax collector at the market, and three other men including Arakanese resident Ko Kyauk Ke were freed on Wednesday.

A source close to the detainees said: "They said they were blindfolded since they were detained, and they don't know where they were taken. And they were kept separately, so they don't know the whereabouts of others. They said they were not beaten, but their mobile phones were checked."

A relative of detainee Ko Nyi Nyi Soe said he was concerned as Ko Nyi Nyi Soe's whereabouts remain unknown.

"We still don't know at which battalion he is being held. We are concerned for his safety," the relative said.

Ko Nyi Nyi Soe is a sales agent for Capital Tobacco Co in Buthidaung and Maungdaw townships. He was detained while loading cigarette cartons onto a vehicle to be delivered to Maungdaw, he said.

Among others who were detained on October 23 were tax collectors and clerks at the market, and boat owners and porters who were detained by some dozens of junta soldiers at the Buthidaung jetty.

The regime is making arrests to instil fear in people, said former Buthidaung Township lawmaker U Aung Thaung Shwe.

"The military can't arrest AA members, and is thus taking out its anger on civilians. Arresting civilians amounts to war crimes," he said.

DMG has been unable to obtain comment from junta spokesman Major-General Zaw Min Tun and Arakan State Security and Border Affairs Minister Colonel Kyaw Thura regarding the detention of the Buthidaung residents.