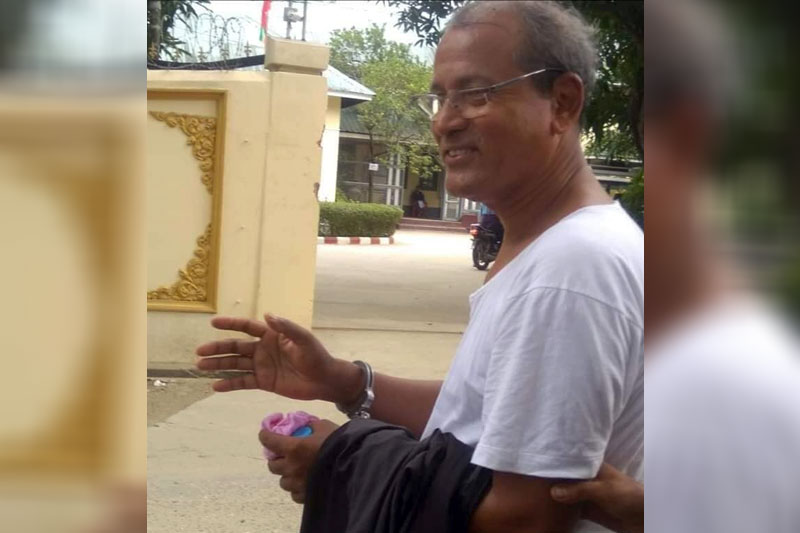 Wuntha (Maungdaw) | DMG
13 November, Maungdaw
 
Maungdaw district court released the chair of Arakan Rakhita Group (ARG) on 13 November after he has been detained for about six months because of lack enough evidence to indict him, according to his lawyer U Aung Kyaw Nyunt.

The chair of ARG U Ba Aye and some workers from the team's agricultural farm, located on Maungdaw-Angumaw road near Khayay Myaing village in Maungdaw Township, were arrested in June and filed a lawsuit for possession of narcotic drugs.

Myanmar Police Force announced that regional police raided the farm on 9 June and seized 399,550 WY tablets, worth K 799 million, from six empty UPG tins and a motorbike.

Manager of the farm Han Soe, supervisor Chit Nay Win, workers Nay Win Tun, Phoe Than and Nyi Lay (aka) Nyunt Lwin were also detained for possession of narcotic drugs and found that the drugs were taken from Sittwe according to interrogations of linked suspects, the police's statement said.

Ma Khin Aye, wife of the manager of the farm, said that the drugs were not found in the farm but at a discarded building located opposite the farm which made allegation seem dubious.

Police seized 100 cows, 50 chickens, 1000 baskets of paddy and three tractors owned by the ARG and sealed the farm on 10 June.

Although the chair of the ARG has been released today, the manager and workers remain in custody.

The ARG is providing agricultural techniques and hiring agricultural machines to grow or reap paddy for local farmers in Arakan State.