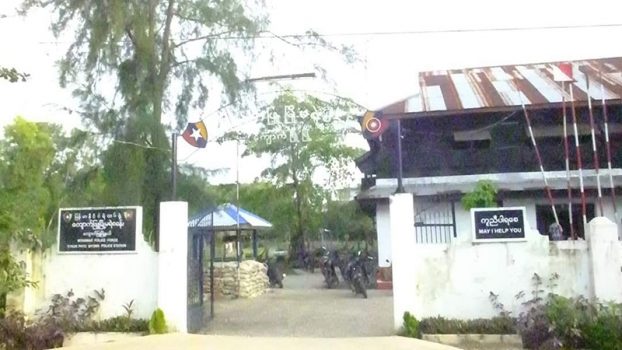 Hnin Nwe | DMG
24 July, Sittwe 
Three women from Kyaukphyu Township's Yay Nan Dwein village who were arrested by the military this week are being held at the Kyaukphyu Myoma police station, according to the village administrator and a lawmaker. 
On July 22, the military reportedly took two vendors, a local artiste, and a village in-charge identified as U Maung Htaung from their homes in Yay Nan Dwein village over suspected links to the Arakan Army, said village administrator U Khin Maung Than. 
U Maung Htaung was released from police custody the next day, but the three women have been held at the Kyaukphyu Myoma police station since then, the village administrator added. 
"The village in-charge was freed yesterday. I think he was interrogated by the police before being released. Three women are currently detained at Kyaukphyu Myoma police station. I don't know what will happen with the three women," he said. 
He added that the women were allegedly taken into custody for questioning. The two female vendors have been identified as Daw Byar Ma and Daw Hla Than Khin, while the third woman currently lives in the village because she is prohibited from performing as a traditional artiste during the COVID-19 pandemic. 
"I heard that the military arrested four people from the village and three women are being detained at Kyaukphyu Myoma police station," said U Kyaw Lwin, an Arakan State MP for Kyaukphyu Township. "I can't say exactly as to whether the police will open a case against the three women or not." 
DMG phoned Police Captain Kyaw Zaw, head of the Kyaukphyu Myoma police station, seeking comment on the detention of the three women, but he replied that he was too "busy with my work" to provide further information. 
DMG also phoned Brig-Gen Zaw Min Tun and Maj-Gen Tun Tun Nyi from the Tatmadaw True News Information Team for comment, but their mobile phones were switched off. 
On July 24, Myanmar Now reported that the military filed a lawsuit against the three women under Section 50(j) and Section 52(a) of the Counter-Terrorism Law at Kyaukphyu Myoma police station.  
Hostilities between the military and the Arakan Army have been ongoing since late 2018 in western Myanmar and the number of civilians arrested over suspected links to the ethnic armed group continues to rise.