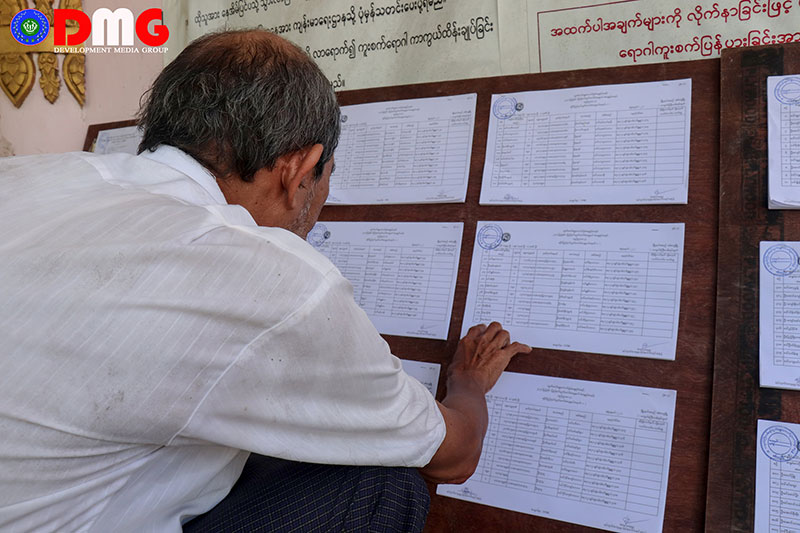 Khin Tharaphy Oo | DMG
8 August, Sittwe

Preliminary lists of eligible voters could not be posted publicly in 36 villages across five townships of northern Arakan State, the state's election sub-commission has said.

Election officials were unable to post voter lists in villages in Buthidaung, Kyauktaw, Mrauk-U, Minbya and Ann townships because some villages have been all but abandoned while others were destroyed by ongoing conflict between the military and the Arakan Army, said Daw Tin Hlaing, who chairs the Arakan State election sub-commission.

"No one takes responsibility for posting voter lists [in the affected villages]. So voter lists could not be displayed in those villages," she explained.

According to Arakan State election sub-commission data compiled through August 4, a total of 3,065 people had registered to include their names on the voter lists, while 1,276 people had applied to cancel names that were published twice, and 3,468 people had submitted correction requests.

Daw Tin Hlaing said it was not yet possible to call the voter lists precise as the review by election officials and voters themselves is ongoing.

There are approximately 1,640,000 eligible voters in Arakan State, according to the Arakan State election sub-commission.

Voter lists were scheduled to be posted initially from July 25 to August 7, with a second display period beginning August 14. The process is intended to give eligible voters ample opportunity to check that their names are correctly enumerated, and to request corrections if necessary.