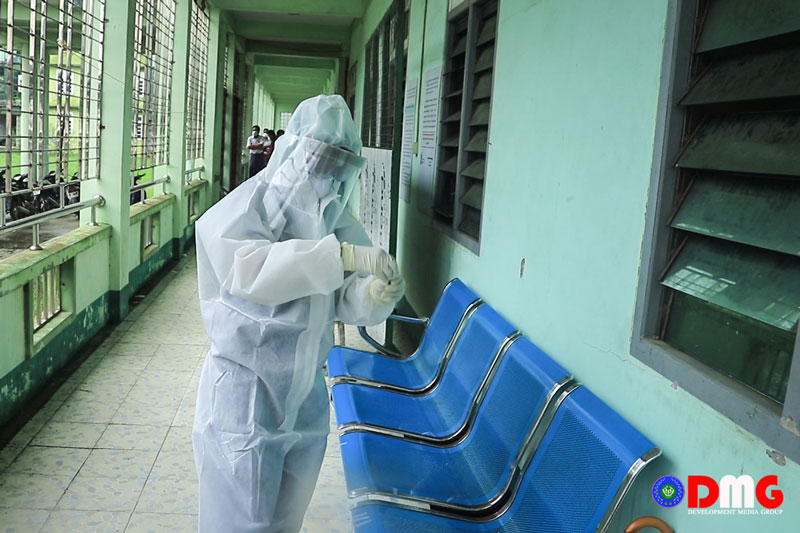 Nyan Hein | DMG
22 September, Sittwe 
A female journalist from the Sittwe-based Narinjara News has been diagnosed with COVID-19, an official from the media outlet confirmed on September 22. 
Since the news agency's office was closed on August 21, the coronavirus-positive journalist did not come into contact with other staff in the office, said Ko Mahn Yu Kyaw, an assistant editor for Narinjara News. 
"She was sick since a few days ago. She went to the hospital for a medical checkup because she lost her sense of smell and had diarrhoea. She was found to have been infected with the virus. She is currently in good condition," he added. 
A local reporter from a mainstream media organisation of Burma proper was also reportedly placed under observation at a quarantine centre after having come into contact with a CB Bank employee from Sittwe who was infected with the virus. 
As of September 22, more than 1,000 people had been infected with the virus in Arakan State, out of whom more than 500 patients have been discharged from hospitals. 
According to the Ministry of Health and Sports, Myanmar as a whole had reported 6,744 coronavirus-positive patients as of September 22, with 1,951 patients discharged from hospitals and 115 deaths. Some of the COVID-19 deaths were reported in Arakan State.